[MOVIES] : These sport movies to watch during quarantine
Lire l'article en Français ➡️️
The NBA, The Champions League, the NFL, the NHL, the MLB, the Premier League and many other sports competitions are stopped because of the coronavirus.
Some watch past sport matches that have marked their respective sports, others watch TV series and others get depressed hoping for a return of sports on television.
The JerseyAve team offers you a list of sports films to watch to keep you occupied during this quarantine (Basketball, Football, American Football, Baseball, Hockey films) and all types (Drama, Documentary, Comedy,…)
BASKETBALL
Love and Basketball - 2000
Love and Basketball is a dramatic and romantic film retracing the story of Monica and Quincy, two young people who wanted to be stars of professional basketball since their childhood. The two became childhood lovers in 1981, when Monica's family moved from Atlanta to Los Angeles, moving into the nearby Quincy's house. Quincy's father Zeke is the star goalkeeper for the Los Angeles Clippers. Quincy is shocked that a girl can love basketball as much as he does and that she can play so well.
White Men Can't Jump - 1992
Billy Hoyle and Sydney Deane, played by Woody Harrelson and Wesley Snipes, team up to participate in city basketball duels (match between two teams of two players on a half court). The action of the film begins on the playgrounds of Venice Beach in California and continues in the neighborhoods of the black communities of Los Angeles.
This association allows them to earn a little money by surprising opponents thanks to the level of play of Billy Hoyle. This will allow them to face more or less uncomfortable situations in their personal lives.
He Got Game - 1998

In this film directed by the famous Spike Lee, the young Jesus Shuttlesworth is promised a bright future in basketball. He and his sister had to take care of themselves after their father Jake (played by Denzel Washington) unintentionally killed their mother.
The governor of the state makes a deal with Jake: he has a week to convince his son to join the state university "Big State", of which he is a faithful admirer. If he fails, he will return to the Attica Correctional Center. Alas it is not so easy for Jake. Jesus is the most coveted player in the country and undergoes insistent soliciting from universities and even agents, even if this is prohibited. In addition, he no longer wants to hear about his father, who wants at all costs to redeem himself in his eyes.
Coach Carter - 2005
Ken Carter A black American coach is hired as head coach of the Richmond High School basketball team, a mostly black and very poor high school, after playing on the team himself. Carter quickly sees that the athletes are rude, disrespectful and need discipline. He gives players individual contracts, asking them to attend all their classes, sit in the first row of these classes, wear dress shirts and ties on match days, designate everyone (players and coach) as "sir", and many other requirements. He will do everything so that his players are not only basketball players but also students, even men.
Space Jam - 1996
Living peacefully in their world, the Looney Tunes are attacked by aliens wanting to make them their slaves for their entertainment. Cornered, the Looney decide to bet their freedom in a basketball match: if they win, the aliens must leave and leave them in peace; otherwise the Toons will accept to be enslaved. Unexpected detail: Martians use their powers to steal the talent and strength of the best players on the planet, thus becoming relentless giant monsters. Panicked, Bugs Bunny and Daffy Duck bring basketball star and reigning champion Michael Jordan to their world to train the toons and help them win the game.
Above the Rim - 1994
Kyle Watson is a talented basketball player who is about to finish high school. While he waits to find out if he will receive a scholarship to Georgetown University, he finds himself in a difficult dilemma about a street basketball tournament. He must decide for which team he will play and follow his coach who is either Mike Rollins, or Birdie (played by rapper Tupac), a local thug in the neighborhood. Thomas "Shep" Sheppard, a former top player himself, now works as a high school security guard. Kyle resents the security guard because Kyle's own mother falls in love with Shep.
Semi-Pro - 2008
Jackie Moon, former glory of the song, is in the American Basketball Association - ABA; at the time competing league in the NBA - with its team of Flint Tropics. The ABA President announces that only four ABA teams will merge with the National Basketball Association (NBA) next season and that the rest of the teams will be disbanded. Moon uses Monix, a former NBA player mostly used to being on the bench, to get his team up in the NBA.
Like Mike - 2002
The story told is that of Calvin Cambridge (Lil Bow Wow), a 13-year-old orphan boy who wants to be a basketball star. The problem is that it is rather small for its age (1.41 m), and that it does not really have the level. But one day, he comes across a pair of shoes which would have belonged to "MJ" (the name of Michael Jordan is mentioned in the film) when he was a child. Calvin tries them and miracle, he has the game of a star of the National Basketball Association (NBA).
He subsequently joined the NBA in the Los Angeles Knights team (fictitious team in reality) where he then encountered team star Tracy Reynolds.
Hurricane Season - 2009
This film is based on the true story of the 2005-2006 State Championship of the John Ehret High School team. One year after the ravages of Hurricane Katrina. Al Collins (Forest Whitaker), John Ehret High School Basketball Coach, in Jefferson Parish (English: Jefferson Parish), tries to assemble a basketball team and lead it to the path of victory, although the players had previously attended five different high schools before the disaster. A drama that had particularly touched them.
Basket Academy - 2005
Roy McCormick is a basketball coach who is not lacking in talent or spring. But one day, carried away by his unstable and impulsive behavior, he commits a technical fault and is dismissed: he is out of control. To earn a living and not stay on the edge of the field, he is forced to take charge of a team of middle school students who barely know how to bounce a ball ... With them the fields look like battlefields, but Roy has more a ride in his bag.
Shaolin Basket - 2008
Fong Shi-Jie, a young orphan, grew up in a small school where four masters passed on the secrets of kung fu to him. When Chen-Li accidentally realizes that his mastery of martial arts also makes the young man a fabulous basketball player, he invites him to come and play for the university team. During his first training, Shi-Jie discovers that the girl who has fascinated him for so long is none other than the sister of Ting-Wei, the team captain. To attract his attention, Shi-Jie will allow the university team to win the competition which opposes them to the most formidable players that are ...
FOOTBALL
Remember the Titans - 2000
In 1971, at the TC Williams High School in Alexandria, Virginia, black students were integrated into the school which had previously been reserved for whites. This decision exacerbates the racial tensions already existing in the community, especially when the white coach of the American football team, Bill Yoast, understands that he will have to work under the supervision of Herman Boone, an Afro- American. The two men nevertheless learned to respect each other, despite their very different temperaments. They do the same for the players on the team and instill in them values ​​that make them respected champions.
The Blind Side - 2009
Immersed in the world of American football in Tennessee, Michael Oher, a young practically illiterate American black finds his way thanks to the love of his adoptive family and his talent for football.
Michael Oher doesn't know what having a family means, the streets and suburbs of Memphis are the only things this 16-year-old teenager really knows. Living in a wealthy neighborhood, Leigh Anne Tuohy's family knows nothing about this kind of life, but when their paths cross, Michael guesses that he may have found a home. Leigh Anne will then contact a private tutor for him and after 6 months of hard work, he will get his diploma hands down. This meeting will change their lives and he will be considered the third child in the family despite the color of his skin and his poor origin. This film inspired by a true story tells of their meeting and Michael's transformation into an American football star.
The Longest Yard - 2005
Paul Crewe is a former American football player, having even won the title of best player in the NFL league. He is, however, banned from this league for allegedly losing a game deliberately. Several years later, after a few problems with his girlfriend, he found himself in prison. The director of this prison then pushes him to agree to help the American football team made up of prison guards, who play in a semi-professional league. To do this, Paul Crewe will form a football team made up of prisoners ...
Gridiron Gang - 2006
Sean Porter (Dwayne "The Rock" Johnson) works at the Kilpatrick Detention Center in Los Angeles. He is frustrated that he cannot help children escape their problems in life when they are released from the center, such as street gangs and drug trafficking. He decides to create a football team to make the children feel that they are part of something. Porter believes that football will teach adolescent inmates what it takes to be responsible, mature and disciplined winners. He chooses a few children in the room who he thinks will benefit from this program and demand that they train with him the next day.
Friday Night Lights - 2004
As preseason training began for the Permian High School football team in August 1988, the city of Odessa, Texas, waited for players and their coach Gary Gaines to win a state championship with their star, the "Running Back" James "Boobie" Miles. Quarterback Mike Winchell runs around waiting to hand the ball to Miles on most games. Fullback Don Billingsley has trouble handling his ball and is abused by his alcoholic father Charles, who won a state championship with Permian. Players often party in the face of the pressure of Odessa's expectations.
Little Giants - 1994
Danny O'Shea has always lived in the shadow of his older brother Kevin, Heisman Trophy winner and local football hero. They live in their hometown of Urbania, Ohio. Kevin coaches the local Pee-Wee Cowboys football team. Although she's the best player, Danny's tomboy girl Becky, nicknamed Icebox, is cut during testing because she is a girl. His less talented friends are also cut, Rashid Hanon (who can't catch anything), Tad Simpson (who can't run) and Rudy Zolteck (who is overweight and fairly flatulent). After being ridiculed by the other players who were part of the team, she convinced her father to coach a new pee-wee team (young amateur).
The Game Plan - 2007
Joseph "Joe" Kingman (played by Dwayne "The Rock" Johnson) is a well known American football player in his country. Everything succeeds: his career is at the top, he is admired by all and all this gives him a self-centeredness and a selfishness that the journalists reproach him enough. But something will turn his life upside down: one day, an eight-year-old girl, Peyton, comes to ring at his door, saying that she is her daughter and that her mother sent her to meet him. For a month, he will have to somehow learn his role as a father while continuing to manage his sports career.
Concussion - 2015
In 2002, the neurologist pathologist of Nigerian origin named Bennet I. Omalu, revolutionized the world of neurology by discovering cases of chronic traumatic encephalopathy within the NFL. He denounces the dangers of popular American football. This film is taken from a true story.
The Longshots - 2008
A group of unemployed young people is all that the small town of Minden, Illinois can have to compose its US football team Until the arrival of Curtis Plummer. Indeed, his weapon is none other than his niece Jasmine. For the first time, the quarterback will be a girl on the field. And for the first time, the team will dream of reaching the heights…
The Express: The Ernie Davis Story - 2008
Ernie Davis (Rob Brown) is a young African American boy growing up in Pennsylvania with his uncle Will Davis Jr. (Nelsan Ellis) in the late 1940s, at a time of racism and discrimination. Davis lives with his extended family, including his grandfather, Willie 'Pops' Davis (Charles S. Dutton), who guides and educates him. Davis' mother, Marie Davis (Aunjanue Ellis), finally returns to their home to inform the family that she has remarried and that she can now afford to raise Ernie at her home in Elmira, New York. When he moved to Elmira, Davis joined a Small Fry football league and excelled on the field as a ball carrier.
SOCCER
Pelé: Birth of a legend - 2016
Having grown up in the favelas, the young Edson, known as Pelé, was trained in street football, imbued with ginga which is the essence of Brazilian football but which is also accused of the bitter defeat of 1950 and the sporting downfall which next 1. Noticed, the young boy joined the Santos club but came up against the new religion of football inspired by European teams. His extraordinary talent and abilities then lead him to the 1958 World Cup, where, at only 17, he imposed a rediscovered footbalistic creativity.
Les Yeux dans les Bleus - 1998
This documentary film recounts the group life of the players of the French football team during the 1998 World Cup in France and the staff who supervised them. The director shared the life of the French team group throughout the competition, which he filmed using a small video camera.
Hooligans - 2005
Matt Buckner is fired from Harvard University, his roommate having concealed cocaine in his wardrobe.
He then decides to cross the Atlantic to visit his sister, Shannon Dunham, who has just had a child. In London, he meets Pete Dunham, brother of Shannon's husband and leader of GSE (Green Street Elite), a very committed hooligan supporter group from the West Ham United club. Matt finds himself gradually drawn into this group whose brotherhood attracts him.
Les Bleus 2018: At the heart of the Russian epic - 2018
Les Bleus 2018: At the heart of the Russian epic is a documentary retracing the journey of the France team to victory during the 2018 Football World Cup.
While Les Yeux dans les Bleus had been produced with the approval of coach Aimé Jacquet but without the right of scrutiny by the French Football Federation, Les Bleus 2018 is this time co-produced by the Federation, which cannot add images but reserves the right to withdraw it, which has actually happened twice.
Didier Deschamps, the France team coach, only wants to broadcast the film if his team goes to the final.
Mean Machine - 2001
Danny Meehan, former captain of the England football team, received three years in prison for assault and battery on two police officers. It is very badly received by the other prisoners because Danny Meehan had touched money to lose an England-Germany match. The director of the prison offers him to become the trainer of the team of guards, but the latter are not of the same opinion ...
Shaolin Soccer
Sing is a master of Shaolin kung fu, whose purpose in life is to promote the spiritual and practical benefits of art in modern society. He is experimenting with different methods, but none have yielded positive results. He then meets Golden Foot Fung, a legendary football star from Hong Kong in his day, who now limps, following the betrayal of a former teammate Hung, become a wealthy businessman.
Sing explains his wishes to Fung who offers his services to train Sing in football. Sing is constrained by the idea of ​​promoting kung fu through football and agrees to enlist his former Shaolin brothers to form a team under the leadership of Fung. Sing and Fung are trying to build an unbeatable football team.
Hermano - 2010
In Caracas, Julio and his mother cross a footbridge near La Planta prison. He thinks he heard a cat but when he gets closer, he notices an abandoned baby crying in the middle of a discharge. The mother is reluctant to take the child with her, but she does.
Sixteen years later, Julio and his little brother Daniel have become the best footballers in La Ceniza, their neighborhood. While Daniel, nicknamed "El Gato" (the cat) is an innocent boy who dreams of playing at Caracas FC, Julio is now part of a gang. He becomes even more involved in gang life after beating a friend who intimidates a minor drug dealer.
United - 2011
This drama focuses mainly on the relationship between assistant director Jimmy Murphy and young player Bobby Charlton. The film begins in the autumn of 1956 when manager Matt Busby gives Charlton his first chance to play a match with the first team of Manchester United, nicknamed the "Busby Babes" because of their unique pedigree as a team. players almost entirely nurtured by the club, with the exception of a few slightly older players who were purchased from other clubs.
Bend it like Beckham - 2002
Jessminder Jess Bhamra (Parminder Negra), a teenager of Punjabi origin and Sikh faith, living in Hounslow, a suburb of London, who idolizes David Beckham and is passionate about football. Passion that she still practices as an amateur, due to the disapproval of her parents, who are loving, but have a very strict point of view on the behavior that must have a young girl, who completely excludes sport.
The Damned United - 2009
In 1974, flamboyant and stubborn Brian Clough took over as head of Leeds United, a football team known for its brutality which it did not like very much. However, deprived of his assistant, hated by the players and faced with several setbacks and defeats, he resigned after only 44 days in office.
The original book was written by David Peace.
BASEBALL
42 - 2013
This film tells the story of player Jackie Robinson, the first African American baseball player to play in the Major Leagues, where he played for the Brooklyn Dodgers.
The Sandlot - 1993
In the summer of 1962 Scotty Smalls, a smart and intelligent fifth-grade student, moved with his parents to the San Fernando Valley, where he found it hard to make friends. He tries to join a group of boys who play baseball daily in a local sandy field, but is hampered by his inability to catch or throw the ball. An attempt to learn to play wrestling with his stepfather, Bill, results in a black eye. Nevertheless, he is invited to join the team by their leader and best player, Benny Rodriguez, who advises him.
61 * - 2001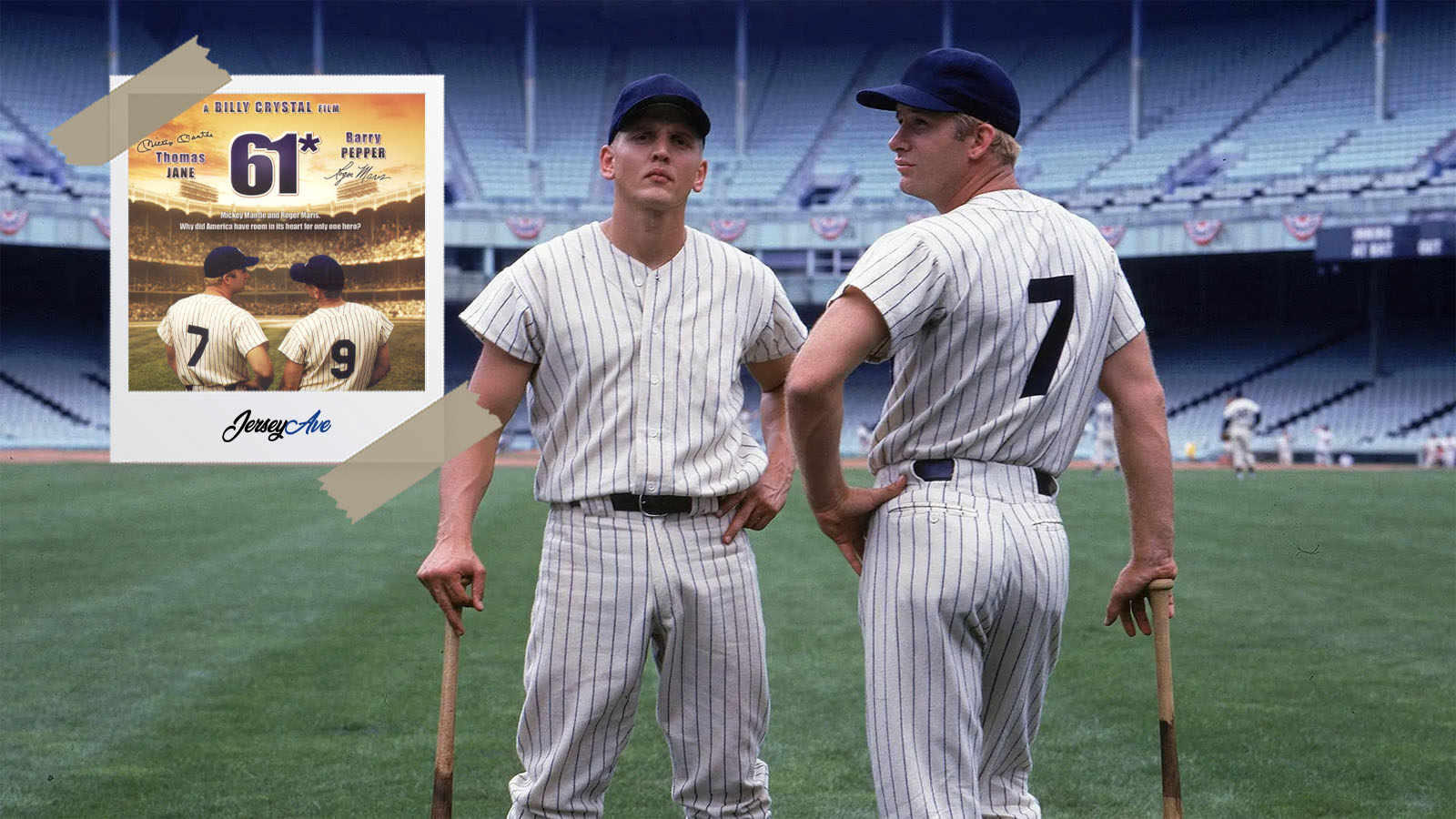 Mickey Mantle and Roger Maris. A New York Yankees fan, Billy Crystal was passionate about events as a regular supporter of the NY Yankees, and he knew Mickey Mantle personally during the last years of his life. Crystal obviously did not miss the opportunity to go back to her childhood when this project took shape. In fact, he took care of every detail in order to stick to reality. Thus, the scenario tries as much as possible to stick to this reality.
The Natural - 1984
Roy Hobbs, a promising young baseball player in the fire, sees his wish to make a professional career destroyed by a revolver. Following this tragedy, he remains convalescent in the hospital for two years. Fifteen years later, when he was closer to the retirement age for sports than that of his beginnings, he was recruited by the professional club of New York Knights. Throughout the matches, he shows that he is the best.
A League of Their Own - 1992
During the Second World War, a professional women's baseball championship was established in the United States. The sisters Dottie Hinson and Kit Keller are notably recruited to evolve there. The two women compete from a young age and the championship is the ideal field for Kit to finally prove to his big sister that she is his equal.
Mr. 3000 - 2004
Stan Ross is the player for the Milwaukee Brewers baseball team. After registering his 3,000th stroke, the selfish and narcissistic Ross immediately retires, leaving the team without one of its star players in the middle of the 1995 playoff race, showing contempt for the feelings of his teammates. Over the next nine years, Ross used his nickname as a business tool, having several profitable properties under the name "Mr. 3000 "which make it more and more rich.
The Bingo Long Traveling All-Stars & Motor Kings - 1976
Tired of being treated like a slave by team owner Sallison Potter, the charismatic pitcher Long Bingo steals a group of Black League players away from their teams, including wide receiver / puncher Leon Carter and Charlie Snow, a player who still intends to enter the separate Major League Baseball of the 1930s by posing as a Cuban ("Carlos Nevada"), then a Native American ("Chief Takahoma"). They hit the road, barnstorming through small towns in the Midwest, playing local teams to make ends meet. One of the opposing players, "Esquire" Joe Calloway, is so good that they recruit him.
Sugar - 2008
Miguel "Sugar" Santos (Perez Soto) spends his weekends at home, passing landscaped gardens and well-kept fields on one side of the gate of the academy guarded to the underdeveloped and more chaotic world beyond . In his small village outside of San Pedro de Macorís, Miguel enjoys a sort of celebrity status. His neighbors meet to welcome him again for the weekend; the children ask him for additional baseballs or an old glove. For his family, who lost his father years ago, Miguel is their hope and their bright star.
The Fan - 1996
A troubled salesman who peddles knives, Gil Renard (Robert De Niro) has a volatile personality, which led to divorce and a strained relationship with his young son. Renard is passionately interested in baseball, especially the San Francisco Giants and the team's newest recruit, Bobby Rayburn (Wesley Snipes). As Renard's personal life continues to fall apart, he begins to obsessively track down Rayburn, leading to an abduction and even murder.
Hardball - 2001
Conor (Keanu Reeves) is a ticket scalper, player and, now, Little League coach for a team of kids in one of Chicago's toughest neighborhoods. He's not a role model, but his buddy Jimmy won't help him pay off his gambling debts unless Conor coaches the Jimmy-sponsored team. Even surprising himself, Conor becomes attached to his players - and their attractive teacher (Diane Lane) - and is drawn into their difficult and sometimes tragic lives.
HOCKEY
Miracle - 2004
Herb Brooks (Kurt Russell), head ice hockey coach at the University of Minnesota, chats with the United States Olympic Committee about the work of the national team coach, discussing his philosophy on the way to beat the Soviet team, calling for changes to the training program and strategy. The USOC is skeptical, but ultimately gives the job to Brooks.
Goon - 2011
Doug Glatt (Seann William Scott), is a polite, kind, but dimwitted bouncer in a Massachusetts bar. Doug feels left out of society, especially since his father and brother are both successful doctors. Doug attends a minor league hockey game with his best friend Pat (Jay Baruchel). Pat taunts the visiting team during a fight and one of their players goes up to the stands, calling it a homophobic bond. Doug, whose brother is gay, intervenes and easily defeats the opposing player. Shortly after, Doug receives a phone call from his hometown team coach, who offers him a job as a police officer.
The Mighty Ducks - 1992
Gordon Bombay (Emilio Estevez), a young lawyer, is sentenced for driving under the influence of alcohol to do community service by becoming an ice hockey coach, a sport he hates above all.
He then meets a team of young players aged 11 and 12 years old (pee-wee category), a team of losers who finishes last in the division each year. Little by little, the young players discover that Bombay's past hides a hockey career that came to a halt after a failed shot in the championship final.
Tooth Fairy - 2010
Hockey player Derek Thompson (Dwayne Johnson) is a terror on the ice. He has the annoying habit of breaking the teeth of his opponents and this earned him the nickname "The tooth fairy".
Goon: Last of the Enforcers - 2017
A lockout brought together former teammates and brought a team of new players to the bench for the Halifax Highlanders. Put aside after too many successes and now married with a baby on the way, Doug "The Thug" Glatt hangs up his skates and settles down in life as an insurance salesman. But when Doug's sworn enemy, Anders Cain, is named captain of the Highlanders and the new property threatens to tear his team apart, Doug is forced to resume combat.
Mystery, Alaska - 1999
This 1999 film ends with an outdoor hockey game between the residents of Mystery and the fictitious New York Rangers, and it turned out to be premonitory: in less than ten years, the NHL had regularly organized outdoor games air in freezing temperatures. The real New York Rangers appeared in several of them, but unlike the film, at no time did an opponent try the Mystery team's secret weapon: a comically slow interpretation of the national anthem, such as as played by Little Richard, to make the city - the shinier visitors to Alaska stay still and freeze.
Red Army - 2014
This documentary on the mighty Soviet hockey team not only explores how it became so powerful in the first place, but also examines how Russian players were introduced to the NHL after the fall of the Soviet Union. Much of the story is told through the eyes of the Slava Fetisov Hall of Fame, which stood up to the tyrannical Soviet coach Viktor Tikhonov and was among the first wave of Russians to play in North America. A talking head explains that the Soviets "elevated hockey to an art form" during their era of domination, so if nothing else, this document nicely completes the story of the "Miracle on Ice" of 1980 by showing how miraculous it is. was.
Sudden Death - 1995
Darren McCord is a former Pittsburgh firefighter who was sidelined after a failed intervention that resulted in the death of a little girl. One evening, he takes his children, Emily and Tyler, to the Civic Arena to watch a hockey game: the Stanley Cup final between the Pittsburgh Penguins and the Chicago Blackhawks. The Vice President of the United States and the Mayor of Pittsburgh also attend the game from the grandstand. In the middle of the match, a group of fifteen terrorists, led by a secret service agent; Joshua Foss, invest the rostrum and take those present hostage as well as Emily, the daughter of McCord, who was passing by. Foss demands that the American government send to its accounts certain credits intended for allied countries. Otherwise, it will blow up the skating rink and its 15,000 spectators with C-4 loaves scattered throughout the building. Faced with the incompetence of the Police and Special Services, McCord decides to save his daughter himself.
Youngblood - 1986
Young hockey player Dean Youngblood discovers top-level ice hockey in the anteroom of the National Hockey League. Dean Youngblood is 17 years old and when he's on ice skates, he doesn't fear anyone. Determined to join the National Hockey League, he joined the Canadian Hamilton Mustangs team, convinced that his skill on an ice rink would earn him the admiration of the crowds. But Dean quickly discovers that the speed and agility of his game are no match for the energy and aggressiveness of the Thunder Bay Bombers team. Thanks to the advice of Derek Sutton the captain of the Mustangs, Dean will learn that speed is not enough and that being the best has a price.
RUGBY
The Kick (2014)
The Kick is a 2014 film that tells the story of the 2011 Rugby World Cup, with a focus on the exploits of white baits who became hero of the Rugby World Cup Stephen "Beaver" Donald. If you grew up in New Zealand from the early to mid-2000s, you will also have an extra pleasure in spotting the former actors of Shortland Street and Outrageous Fortune who present themselves as All Blacks and other supporting roles throughout the film - including Xavier Horan as Sonny Bill Williams.
The Brighton Miracle (2019)
The Brighton Miracle is a Japanese television film that chronicles Brave Blossoms' remarkable victory over South Africa at the Rugby World Cup 2015. The film begins with Japanese officials lamenting their 145-17 defeat against All Blacks at the 1995 World Cup and ends with a miracle victory against the Springboks. The film was well received when released with an 8.2 rating on IMDB, other high profile films of 2019 like Jojo Rabbit and Once Upon a Time in Hollywood.
Old Scores (1991)
Old Scores is a wonderful film that sees the All Blacks and Wales replay a 25-year-old game following confessions on the deathbed of a tactile judge who did not stop the Welsh try-out . The Welsh Rugby Union orders that the game be replayed and the hilarity ensued as the two teams bring back their original players to contest the re-match. Among the film's former All Blacks are Ian Kirkpatrick, Waka Nathan, Alex 'Grizz' Wyllie and Grahame Thorne. On the Welsh side, legends Phil Bennett, Gerald Davies, Mervyn Davies and Gareth Edwards return for a final match in the red jersey. The film also has real star power with famous spies John Bach and Windsor Davies both playing key roles in the film.
Forever Strong (2008)
Based on a true story, Forever Strong is an American film that follows a troubled youth (Rick) as he changes his life playing rugby. Directed toward life problems and drug use, Rick finds fellowship, purpose and peace with his new rugby team. Like all good high school sports films, this one ends at the national championships with Rick who had the chance to save the situation. Will he do it? You will have to watch to find out! The film also stars Sean Astin from Lord of the Rings and Rudy Fame.
Invictus (2009)
Invictus traces the incredible campaign for the Rugby World Cup in South Africa in 1995 and how President Nelson Mandela used it to help unite the Rainbow Nation. In their first World Cup appearance since the end of apartheid, the Springboks, led by François Pienaar, captured the imagination of the South African public by remaining unbeaten throughout the tournament before beating the All Blacks 15 -12 in the final at Ellis Park in Johannesburg. Many New Zealand viewers were confused that Suzy did not appear in the film, but that did not stop him from achieving global success with a solid 7.3 rating on IMDB and earning over $ 120 million. at the box office.
TURN OFF THE LIGHTS AND TAKE OUT THE POP-CORNS.
YOU ARE NOT GOING TO BE BORED, BELIEVE US.
GOOD VIEWING
The team JerseyAve